CBD lovers have a lot of boast of with new products and varieties in the market, they are winning it on the options front. Cannabis users face multiple options with both low dose products and those with a lot of CBD. Those who are starting out on Cannabis are going for low dose options. CBD is short of cannabidiol and is a non-psychoactive product that does not make one feel high. In fact, THC is CBD's cousin that causes one to feel high. CBD is known for the intense relief it provides and how it reduces inflammation and pain. It has a gamut of benefits that include:
Induces sleep
Boost athletic recovery
Elevates mood
Reduces inflammation
Reduces depression
Provides relief from anxiety
In all CBD products, the value of CBD varies. The ratios are different as per preference. Some beginners go for easy low dose options as one can gauge the effects before using it in full strength. With the multitude of options available, CBD chocolate literally takes the cake. Who doesn't love chocolate?
Here is a list of the Best CBD chocolates
Care By Design Chocolate Bar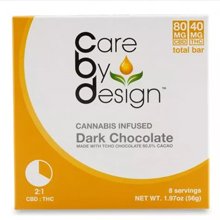 Buy Now
The makers of Care by Design decided to have therapeutic CBD with delicious chocolate. The company is California based and provides the most anxiety relieving treat. It is a potent stress reliever and has the best benefits of CBD. It may contain THC and that small amount is actually considered legal. It is highly potent and delicious, what a combination indeed.
Good Vibes 60% Dark Chocolate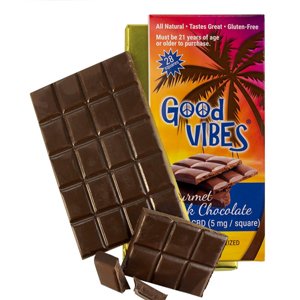 Buy Now
When you look for CBD chocolate you should keep two things as priority-taste and potency. Good vibes products are all natural, taste great and are completely gluten-free. They come with attractive packaging. It is rolled out by Pure Science Labs and has 5 mg pure CBD. It does not taste like hemp and is a must buy.
Ther-A-Peu-Tic CBD Chocolate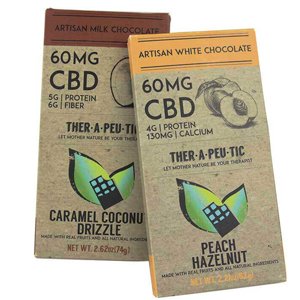 Buy Now
This brand believes in letting Mother Nature be your best therapy. It comes in three flavors- Peach Hazelnut, Caramel Coconut, and Raspberry Cinnamon. They have organic cane sugar, cocoa butter, whole milk powder, and cocoa mass. It is white, creamy and has hints of hazelnut. It has almost 25% CBD and contains only all natural ingredients.
Irisk CBD Chocolates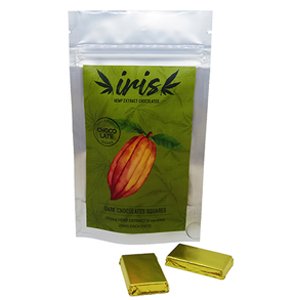 Buy Now
This is a chocolate pack that has 30 pieces and contains a total of 90 mg CBD. That is each piece has 3 mg CBD. It is sugar-free and is made up of milk chocolate. It is well concentrated and relieves pain and anxiety. It is not overpowering and that we think is the best part. It is a lab tested product with well-made packaging.
CBD Living-Chocolate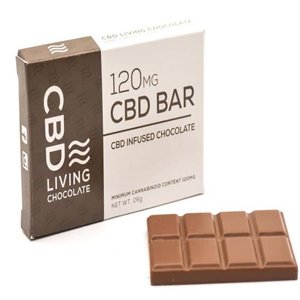 Buy Now
This is from the brand CBD Living Water. This 26-gram chocolate has just 15 calories and is made of 99.5% pure CBD. It is made of full spectrum CBD which is rich and derived from hemp plants. This has 120 mg of CBD. It has nano hemp extracts and one has 8 segments in a bar. It has no THC and is designed for optimal health.
Why CBD Chocolate is the Best CBD Edible?
It is easy to ingest and so one does not spill around like oils
It comes with convenient packaging
It is a low dose and so one will not have serious side effects
Only full spectrum is used for CBD Chocolates
Treats a wide variety of issues including nausea, pain and inflammation
Tastes great, Duh, Its chocolate!
Final Thoughts
Chocolates that have CBD are an easy way to take in hemp. It is discreet, tastes great and has rich flavors. All the above-mentioned ones are organic and natural thus giving best benefits. Now, one can get the best of CBD with the richness of the chocolate. Full spectrum CBD which is finest is used and this makes users go in for a treat.
Get more stuff like this
Subscribe to our mailing list and get Latest updates
Thank you for subscribing.
Something went wrong.