Since the legalization of cannabis usage in a number of states in the US, usage of cannabis products in the beauty industry have gained momentum. Cannabidiol or CBD is a compound of cannabis which is devoid of psychoactive effects. Besides providing relief from a number of illnesses, CBD is considered to be great topically too. It has anti-inflammatory effects and is effective to combat dry skin and acne. CBD products can be used to treat various skin conditions.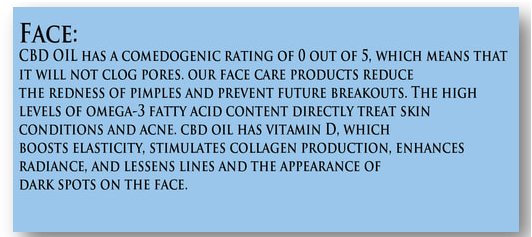 Now we have some choicest CBD based beauty products in the beauty industry as it's trendy and beneficial too. Here are some beauty products which are CBD based and can provide huge benefits for your skin.
CBD Healing Skin Balm
Pricing: $58.00
This Healing skin balm is of velvety consistency and great for any type of skin. It can be used to reduce acne, treat dryness, reduce inflammation and promote beautiful healthy skin. It is excellent as a daily body moisturizer.
The Balm has Manuka Honey and CBD which help the sin produce healthy oils. They prevent dryness and cracking and the anti-inflammatory properties of CBD reduce redness and swelling. Overall, a great product for skin replenishment.
Vertly Hemp Infused Body Lotion
Pricing: $55.00
This body lotion, infused with hemp-derived CBDs as well as magnesium, arnica flower, nourishing plant oils, peppermint hydrosols is carefully handcrafted to soothe the skin and body. It is also calming with a refreshing scent of citrus and lavender.
The Hemp Extract can soothe the skin and reduce anxiety. The Hempseed oil, one of the vital ingredients, is rich in Omega 3 and Omega 6 fatty acids, increases circulation and reduces inflammation.
CBD Rescue Balm
Pricing: $29.99
Naturally soothing and a fantastic skin moisturizer, Hemp Balm promotes superior skin health. Our custom-formulated topical CBD blend improves dry, irritated and aged-looking skin while promoting optimal skin health, vibrancy and a youthful appearance.
We love this skin moisturizer because it gives you smooth, optimal skin health and a youthful appearance.
Hemp Facial Cream – English daisy
Pricing: $16.95
This hemp seed oil based facial cream is used to balance your natural facial oils and reduce fine lines. It gives you a smoother, younger look and relieves skin issues like acne, eczema, and psoriasis.
It is one of the best sources of essential fatty acids. The cream delivers absolutely flawless, smooth skin and gives you the best glow, ever!
Should you go for these CBD Products for Skin?
Yes, we believe this is going to be a game changer in the beauty industry. Cannabis has shown to be beneficial for your skin in several studies. CBD oil is considered the next best remedy for skin and other beauty problems. Go ahead, try these products and let us know the results!
Get more stuff like this
Subscribe to our mailing list and get Latest updates
Thank you for subscribing.
Something went wrong.