Vaping CBD is a preferred mode by many consumers since it's convenient, better than smoking and affordable. CBD Vaping has never been so easy &fun! The best part, it contains no THC, and CBD has no psychotropic effects which make it legal in most countries.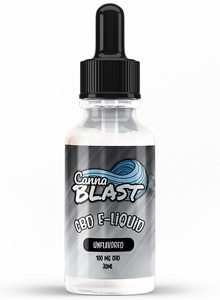 Buy Now
However, increasing demands of vapers has led to a competition among who delivers premium e-liquids. We found this brand Cannablast which might just prove to be the right fit yielding to the demands of the choosiest vaper. It's crafted from top-quality ingredients, with fruity, tropical flavours which leave you with a feeling of frolicking on a summery beach and will excite your taste buds like no other!
What is the Cannablast CBD e-liquid made of?
With Cannablast, you get an e-liquid with top quality CBD which is going to enhance the vaping experience of both beginners and veterans alike. Their range of premium CBD e-liquids come in different concentrations to suit different vapers and it contains 0% THC.
What are the different flavours of Cannablast e-liquid available?
Cannablast ensures its vapers have unmatched experience when they choose to vape their premium e-liquids. It is for this reason that they have top quality tropical flavours which pack a punch and unflavored for those who prefer it neutral.
Unflavored
Strawberry Punch
Sweet Melon
Tropical Fruit
Unflavored: Containing 0% THC, this unflavored e-liquid blends with any flavour and can be used sublingually as a tincture or mixed in your favourite food.
Strawberry Punch: This does indeed give you the kick of fresh tropical strawberries which is fruity and made of the best quality CBD. It is the perfect blend of strawberries and orange.
Sweet Melon: Canna Blast Sweet Melon CBD E-Liquid gives you a melon juicy blast! Enjoy the health benefits of premium quality CBD and overpower your taste buds with sweet melon flavour.
Tropical Fruit: Last, but not least, Cannablast Tropical Fruit is a blend of fresh coconut, oranges, and kiwi and an amalgamation of sensational flavours.
What are the different concentrations of Cannablast e-liquid available?
All e-liquids come in a 30 ml dropper bottle. The Strength include 100mg, 250mg, 500mg, 1000mg. Cost begins at $19.99 for the 100mg bottle, $34.99 for the 250mg bottle, $49.99 for the 500mg bottle and $89.99 for the 1000 mg bottle.
How good are the Cannablast e-liquids?
All the flavours are awesome and the tropical fruit seems to be a favourite among consumers. We loved it for its sweet and fruity flavour and it relieved stress the entire day when consumed. It tastes and worked really well and is highly recommended. The unflavored is smooth and light and as claimed by many customers, provides great pain relief.
Why is Cannablast a preferred choice for e-liquids over others?
Some really amazing flavours compared to other brands
Made from premium quality CBD
All lab test results are easily available on the site next to every product.
Provides great relief from aches and pains
Available in various concentration levels ranging from 100mg to 1000mg to suit all kinds of vapers and for all problems.
Helps a lot with anxiety
Quick delivery and 72-hour shipment
Great customer reviews
We only wish they add more flavours and also ship outside the US for the benefit of international customers.
Shipping and Returns Policy
Canna Blast guarantees a 72-hour shipment for all orders placed. You can expect an order to ship within 24-48 hours on an average. Orders placed on vapormaven.com ship through USPS Priority Mail and will arrive between 1-3 days. Shipping charges depend on the cost of your order and where it is shipped to in the US.
Canna Blast CBD does not allow returns. If you are shipped incorrect or defective products, they will promptly replace it.
Reviews
The site has great reviews and an overall rating of 4.6/5. Many customers have awarded 5***** for their products and have been vocal of their relief from using the e-liquids.
Final Thoughts
We think Cannablast is affordable, convenient and loved by a majority of the consumers. They have listened to customer demands and come up with interesting flavours and could even do with more given how popular they are. Crafted from high-quality CBD, they contain 0% THC and provide a premium experience. Go ahead and order your first bottle with confidence.
Use Canna Blast CBD Coupon Codes and Get 10% Off on E-Liquids